The alora and evolve+ theme are Retina Ready, so the themes will look just great on High Resolution displays like the iPad 3 / 4 or iPhone Retina devices. Please review the information below to fully understand how this process works.
There are two different sets of images/graphics that can be Retina Ready
Theme Images: These types of images are included with the themes already (for example: Social Media Icons). All of these supplied Theme Images are Retina Ready from the get go and do not require the user to do anything. They will look super sharp on Retina Ready screens.
User Uploaded Images: The second group of images are known as User Images. These are simply any images that individual blog users upload to their theme (ex: Blog Post Image). These may or may not be Retina Ready depending on the user really. The basic rule of thumb is that a Retina Ready image should be at least 2x the normal size for that type of image. Therefore, if you have an image that is going in a space that is 100px x 100px, you would usually be required to upload a 200px x 200px image in order to get a Retina Ready effect.
The easiest way to ensure that your User Images are Retina Ready is to use the WP Retina 2X Plugin created by Jordy Meow.
It is helpful to understand that quite often a Retina Ready image is in fact a vector image. This is a computer based image that is mathematically stored and drawn, so that it can be scaled up and down just by being redrawn larger. No detail is lost as the image is storage mathematically rather than pixel by pixel.
By comparison, a photographic image is a fixed image size of a collection of pixels and therefore cannot be blown up to be 5X the size without losing image definition in the process. Computers can with time extrapolate out what could have been present in the missing image quality, but for simple web browsers they just blow the image up and image quality is lost in the process. As such, logos  and other images may continue to look poor on iPad devices until the images used are all vector based.
The WP Retina 2X Plugin For User Images
As mentioned, the WP Retina 2X Plugin is a useful plugin and is currently the preferred option for users to ensure their images are Retina Ready. It informs you whether the images being uploaded are large enough to ensure Retina Resolution or not. It also will convert your current media library of uploaded images to be Retina Ready too. The plugin will automatically create the needed 2x images that are required for every area of the web site, and will provide alerts if the images are not big enough to be Retina Ready.
Other Images Like Logos and Favicons
Some images such as the logo and favicons must be uploaded via Theme Options (Appearance > Theme Options > Logo/Favicon Options). The necessary fields have been created to make sure that these important images are Retina Ready. Users will need to upload additional files which are 2x the original size. So, for example, you will need to upload a normal size logo file into the Logo field, and then upload the 2x Logo file in the Logo (Retina Version @2x) field to ensure Retina Ready displays of the logo.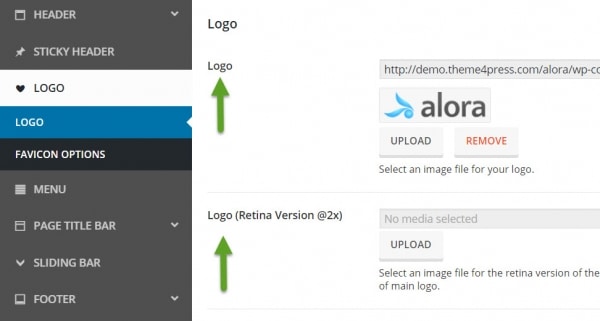 For the logo specifically, you must also add the width and height of the original logo size, NOT the 2x size. This is important and just one part of the way that web browsers use information to display the Retina Ready images instead of the regular size images.