The alora theme also includes the stylish Elastic Slider. This slider is particularly good for displaying different kinds of attractive captions with basic but stylish animations. It is fully responsive for smartphones and tablets, can be used full width or with a custom width and height. Users are able customize many settings from the Elastic Slider tab in the Theme Options panel.
Please note:
The Elastic Slider has its own tab in theme options. You will need to navigation to
Appearance > Theme Options
and click on the
Elastic Slider
tab to view all the custom settings like: width, height, animation, speeds, font size and color, thumbnail width, etc. All of these settings are controlled via the Theme Options.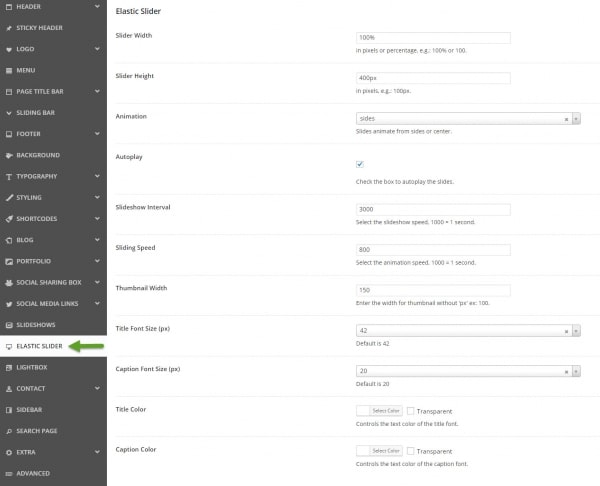 To create a new Elastic Slider, run through the following steps below
Select the Elastic Slider sidebar item
Select the Add New button at the top

1. Enter a name for the slide in the top field.

2. Choose your slide's Title

3. Choose your slide's Caption

4. Add the slide to a Group (select a previously created group or create a new one)

5. Set the Featured Image

6. Publish the slide by hitting Publish

To add more sliders, repeat this process. Ensure that you use the same Group name for each of your slides if you need them to be included as a single slide-show. It is also possible to manage your Groups by selecting "Groups" from the left sidebar under the Elastic Slider menu item.

In order to make a slider appear in a page, following the instructions on the Setting Up the Sliders page.