(NOTE: You can access all the shortcodes via the shortcodes icon on your visual editor. See this document if you need more information.)
The Font Awesome icon shortcode lets you insert any of over 300 icons. You can use background colors, animations, borders, and more.
Here's an example of one - a music note inside of a circle.
Here's a look at some of the settings.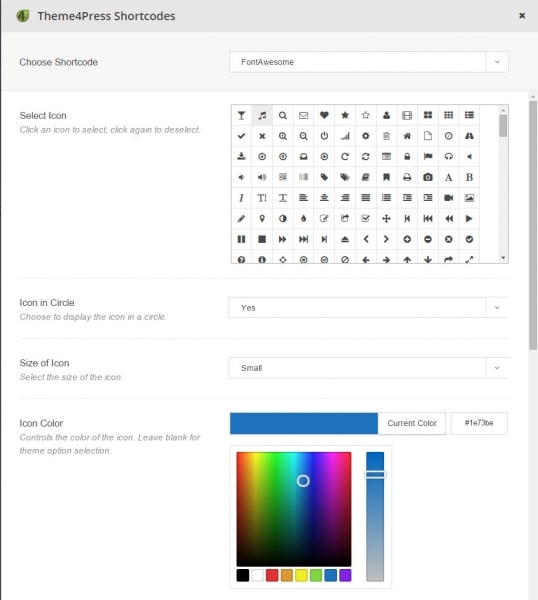 Here's a sample shortcode.
[

fontawesome

icon

=

"fa-music"

circle

=

"yes"

size

=

"large"

iconcolor

=

"#1e73be"

circlecolor

=

""

circlebordercolor

=

""

flip

=

""

rotate

=

""

spin

=

"no"

animation_type

=

"0"

animation_direction

=

"down"

animation_speed

=

"0.1"

class

=

""

id

=

""

]
Properties available:
icon = use one of these icons, without the word "icon", so that it should look like icon="smile", not icon="icon-smile"
circle = use only one of these: yes, no
size = use only one of these: large, medium, small
iconcolor = hex code #000000, or color name black or rgba values like rgba(0,0,0,0.4) or "transparent"
circlecolor = hex code #000000, or color name black or rgba values like rgba(0,0,0,0.4) or "transparent"
circlebordercolor = hex code #000000, or color name black or rgba values like rgba(0,0,0,0.4) or "transparent"
flip = horizontal, vertical
rotate = 90, 180, 270
spin = yes, no
animation_type = bounce, fade, flash, shake, slide
animation_direction = down, left, right, up
animation_speed = 0.1, 0.2, 0.3. 0.4, 0.5, 0.6, 0.7, 0.8, 0.9, 1