(NOTE: You can access all the shortcodes via the shortcodes icon on your visual editor. See this document if you need more information.)
The Google Maps shortcode allows you to easily put a Google map into your site. Here's and example.
Here's a partial look at the settings page.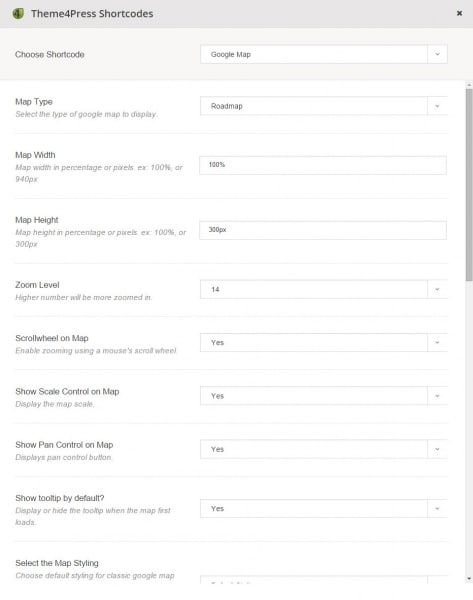 Here's an example of a shortcode.

[

map

address

=

"Central Park, New York, NY"

type

=

"roadmap"

map_style

=

"default"

overlay_color

=

""

infobox

=

"default"

infobox_background_color

=

""

infobox_text_color

=

""

infobox_content

=

""

icon

=

""

width

=

"100%"

height

=

"300px"

zoom

=

"14"

scrollwheel

=

"yes"

scale

=

"yes"

zoom_pancontrol

=

"yes"

popup

=

"yes"

class

=

""

id

=

""

]

[

/

map

]
address = your physical address. To have multiple map markers, separate two addresses with a vertical line, otherwise known as a pipe |. For example: 123 Joseph Street Beverly Hills, CA 50210 | Lake Placid, MI 48377
type = use only one of these: roadmap, terrain, hybrid, satellite
map_style = default, theme, custom
overlay_color = hex code #000000, or color name black or rgba values like rgba(0,0,0,0.4)
infobox = default, custom
infobox_background_color = hex code #000000, or color name black or rgba values like rgba(0,0,0,0.4)
infobox_text_color = hex code #000000, or color name black or rgba values like rgba(0,0,0,0.4)
infobox_content = content for info box instead of default location name
icon = icon name
width = a pixel (px) or percentage (%) value
height = a pixel (px) or percentage (%) value
zoom = this will be a number for the map zoom level, a number between 1 - 25
scrollwheel = use one of these: yes, no. This will turn the mouse scrolling on or off
scale = use one of these: yes, no. This will display or not show the scale graphic
zoom_pancontrol = use one of these: yes, no. This will display or not show the zoom controls
popup = yes, no