(NOTE: You can access all the shortcodes via the shortcodes icon on your visual editor. See this document if you need more information.)
The Image Frame shortcode will let you put frames around your photos and also do other things if you like, such as animate the image and make it appear in a pop-up lightbox when clicked.
Here's an example of the Image Frame shortcode. You can see a blue frame of 15px, and if you click on the image, you will see it pop up in a lightbox when clicked.
Here's a partial look at the settings.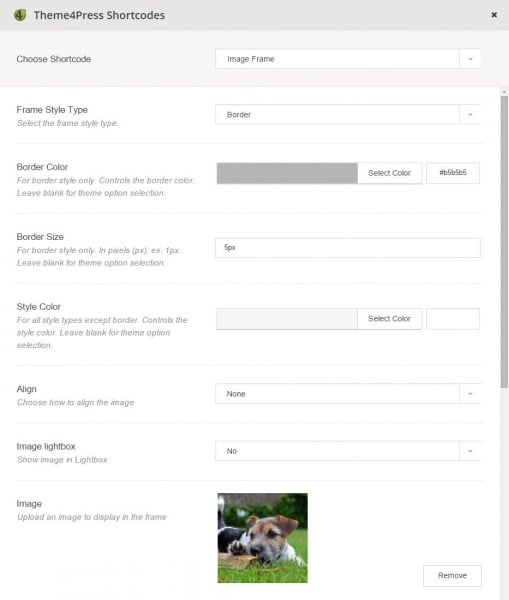 These are the properties:
lightbox = yes, no; whether you want the image to pop up in a lightbox when clicked
style_type = use one of these: border, glow, dropshadow, bottomshadow
bordercolor = hex code #000000
bordersize = a pixel value like 9px
stylecolor = hex code #000000, this value only controls the glow and dropshadow style color
align = use one of these; left, right. This will adjust image alignment to the left or right in order to permit text to wrap around it.
animation_type = bounce, fade, flash, shake, slide
animation_direction = down, left, right, up
animation_speed = 0.1, 0.2, 0.3 ... 0.9, 1
alt = the text description of an image that shows up when hovering over the image
src = the path of the image that you wish to show, beginning with http:// and typically ending with .jpg, .png or .gif