(NOTE: You can access all the shortcodes via the shortcodes icon on your visual editor. See this document if you need more information.)
Here are 7 different separator styles that may be added as padding.
Single:
Double:
Single Dashed:
Double Dashed:
Single Dotted:
Double Dotted:
Shadow:
Here's a look at the settings.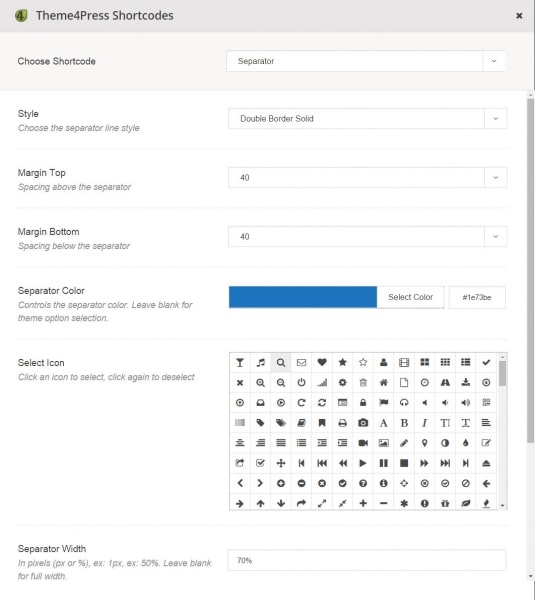 Here's a sample shortcode:


 


These are the settings.









style_type = use one of these: single, double, single|dashed, double|dashed, single|dotted, double|dotted, shadow


top_margin = a number – if positive (like 20) this will add extra spacing, if negative (like -20) it will decrease the spacing


bottom_margin = a number – if positive (like 20) this will add extra spacing, if negative (like -20) it will decrease the spacing


sep_color =hex code #000000, or color name black or rgba values like rgba (0,0,0,0.4)


icon = name of an icon to include


width = either a number for pixels, such as 500 or a number for percent of space to cover, such as 70%. Not using anything with default to 100% width