.evolve
Multipurpose WordPress Theme
License: GPL v2.0+
Documentation & Video Tutorials
Changelog of evolve+
evolve+ Changelog
New Improved / Updated
Version: 2.8.3 - 13/4/18

Added Footer Reveal Effect
Updated WooCommerce templates

Improved overall speed - CSS and JS minifications, compressed images

Minor visual and function fixes
Version: 2.8.2 - 19/12/17

Added Shortcuts in Customizer
Updated WooCommerce templates

Updated Theme4Press Core plugin

Minor visual and function fixes
Version: 2.8.1 - 25/11/17

Fixed issues with the Home/Front Page Builder

Minor visual and function fixes
Version: 2.8.0 - 17/11/17

Added Custom Home/Front Page Builder with prebuilt demos

Added 6 new elements for the home/front page area

Added new predefined color schemes
Updated WooCommerce templates

Updated Theme4Press Core plugin

Minor visual and function fixes
Version: 2.7.7 - 24/7/17

Added Support For Theme4Press Composer Front End Builder
Updated WooCommerce Templates

Minor visual, function and WooCommerce fixes
Version: 2.7.6 - 8/7/17

Function fixes
Version: 2.7.5 - 17/6/17

Updated Theme4Press Core plugin

Minor visual and function fixes
Version: 2.7.4 - 18/5/17

Added Support For Theme4Press Composer Plugin

Added Font Awesome Icon Picker in Mega Menu and in Theme Options
Updated WooCommerce Templates

Minor visual and function fixes
Version: 2.7.3 - 16/4/17

Updated WooCommerce Templates

Updated Theme4Press Core plugin

Minor fixes
Version: 2.7.2 - 21/3/17

Fixed WooCommerce issues

Improved responsiveness of Bootstrap and Posts slider

Updated Theme4Press Core plugin

Updated Demo Content for Import

Minor visual fixes
Version: 2.7.1 - 19/1/17

Fixed UberMenu issues

Fixed double menu display and performance issues

Header and Footer patern option needs to be updated in theme options, if used before
Version: 2.7.0 - 15/1/17

Minor visual fixes
Version: 2.6.9 - 13/1/17

Added Submenus in mobile navigation
Implemented SASS, changed structure of theme folders

Updated French language files

Updated WooCommerce files

Updated FontAwesome Font

Minor fixes, overall optimization and improvements
Version: 2.6.8 - 14/7/16

Added Mega Menu feature

Added UberMenu support

Added 2 New Bootstrap Slider Layouts

Added Title Bar Feature for Posts and Pages

Added option to select custom width for the content and sidebar(s)
Updated language files

Updated WooCommerce files

Updated FontAwesome Font

Improved control panel per post/page options
Version: 2.6.6 - 9/6/16

Added custom menu location for sticky header

Added option to upload sticky header logo

Added 100% Width template for pages

Added option to select slider position (above/under header)

Added portfolio grid infinite scroll option

Added search field in the sticky header

Added support for Retina displays

Added Custom width option

Added option to enable/disable custom post format backgrounds
Updated Theme4Press Core plugin

Fixed bbPress global sidebar issue

Fixed header widgets option per post/page bug

Minor fixes
Version: 2.6.4 - 8/5/16

Added Contact Form 7 Support

Added option to select elements color
Updated German Translation files

Fixed Infinite Scroll Loader bug

Fixed Blog shortcode bug
Version: 2.6.3 - 3/5/16

Fixed Front Page Content Box bugs

Minor visual fixes
Version: 2.6.2 - 30/4/16

Fixed Front Page Content Box bug in Safari
Version: 2.6.1 - 29/4/16

Updated Theme4Press Core plugin

Updated Translation Files

Updated Redux Framework

Updated Bootstrap library

Updated bbPress files with breadcrumbs

Fixed Sticky Header Issues

Fixed many other visual and function issues

Fixed WPML Compatibility

Fixed Theme4Press Slider responsivness

Fixed Front Page Content Box layout
Version: 2.6.0 - 18/4/16

Added Five New Header Layouts

Added unlimited number of Bootstrap slides and reordering option

Added unlimited number of Parallax slides and reordering option

Added Custom Fonts Feature

Added New Options in the Header section
Improved Responsive Menu - Added New Options

Improved Dynamic CSS Generation

Updated Translation Files

Updated WooCommerce Files

Updated Redux Framework

Fixed WPML Compatibility

Fixed Sticky Header Issues

Fixed many other visual and function issues
Version: 2.5.1 - 15/12/15

Fixed blog shortcode issue with WordPress 4.4
Version: 2.5.0 - 19/11/15

Added Portfolio Feature and Widget - Up To 9 Templates

Added New Shortcodes - Blog, Flip Boxes, Modal, Popover, Recent Works, Theme4Press Slider

Added Theme Automatic Update Feature

Added Many New Theme Options - Social Links Sorting, Shortcodes styling and much more
Replaced Flexslider with Theme4Press Slider

Replaced many image icons with IcoMoon font

Updated Font Awesome

Fixed many issues

Improved overall design - added options to turn on/off shadow effects, modern flat design integrated
Version: 2.0.1 - 5/8/15

Fixed IcoMoon bug, Fixed Front Page Content boxes bug, Minor fixes
Version: 2.0.0 - 2/8/15

Added Redux Framework support

Added Romanian translation
Updated Revolution Slider plugin

Updated Layer Slider plugin

Fixed minor issues
Version: 1.9.0 - 27/5/15

Added Import Demo Content button to Theme Options page

Added global sidebar for BBPress

Added standard WordPres templates - single.php, 404.php, search.php, author.php, attachment.php, page.php

Added option to select layout per post/page
Updated Revolution Slider plugin

Additional W3C Validation

Fixed comments view on homepage

Fixed sidebar views

Fixed Lightbox issue with attachments
Version: 1.8.5 - 12/5/15

Added options to select typography for H1-H6 headings, widgets title and content

Added option to select a featured image for pages

Added options to select custom background and color for Header, Content and Footer area

Added option to select title length of Posts Slider

Added option to disable boxed layout shadow effect
Fixed Front Page sliders and content boxes display

Fixed excerpt bug in Posts slider

Updated comments avatars

Updated Color Picker in Customize

Overall clean up of unnecessary functions, spaces and CSS
Version: 1.8.0 - 14/4/15

Implemented Google reCAPTCHA for Contact page template

Added option to enable/disable Bootstrap Slides 100% Background

Added Tumblr social media icon
Fixed small Google Map issue

IE fixes
Version: 1.7.8 - 1/4/15

Added Infinite Scroll feature

Added option to select Bootstrap slider and Header widgets per page

IE compatibility fixes

Bootstrap images and responsiveness fixes

title tag fix

Completed translation

Fixed Polylang plugin issue

Added WPML compatibility

Color picker replaced with default WP library

Fixed various issues
Version: 1.7.5 - 1/3/15

Added bbPress and BuddyPress support

Added favicon option

Added 1-4 Front page content boxes option

Fixed various stylesheet issues
Updated translation files
Version: 1.7.0 - 13/2/15

Added Calibri font

Added title characters limit settings option

Added single post featured image

Added Logo center option

Added Dynamic CSS

Fixed Bootstrap image alignment and titles background

Fixed codes issue in excerpts

Fixed CSS and Google Fonts

Fixed customizer bug and another minor bugs

Fixed upload media library
Updated Revolution Slider plugin

Updated Layer Slider plugin

Updated WooCommerce integration

Updated FontAwesome icons

Updated Bootstrap Elements
Version: 1.6.6 - 26/11/14

Added new options to disable menu effect and default thumbnail of posts
Updated Revolution Slider plugin

Updated Layer Slider plugin

Updated Flickr Widget

Updated Twitter Widget

Updated WooCommerce files

Fixed child theme support

Fixed validation bugs
Version: 1.6.5 - 3/6/14

Added Front Page Content Boxes (enabled by default)
Updated FontAwesome icons to the latest version, fixed custom header width

Fixed Bootstrap Slider arrows issue
Version: 1.6.0 - 25/5/14

Added Bootstrap Slider option in the control panel
Changed default background

Minor fixes
Version: 1.5.0 - 18/5/14

Added new theme options

Added Macedonian translation, minor fixes

Added WooCommerce One Page Checkout layout
Updated Theme4Press Shortcodes

Updated WooCommerce templates

Updated Revolution Slider plugin

Updated Layer Slider plugin
Version: 1.0.0 - 27/3/14

Initial release

Theme4Press Composer (beta)
True customization with Drag & Drop PageBuilder including 52 shortcodes and widgets

Theme Options
Flexible theme options panel to control all major aspects of the evolve theme.

3 Sliders
These include Parallax Slider, Bootstrap Slider for the full width slides, and Post Slider.
500+ Google Fonts
Over 500 Google Web Fonts are included for endless variety in typography.
Prebuilt Home Page Layouts
Start your new project with just a click. Many ready-made front page layouts for any website niche.

Responsive Layout
Responsive design which changes appearance depending on the screen size.

Unlimited Colors
Choose just the right color combinations for your business site or niche site.
Backup Options
Never lose a custom design again with backup options at your fingertips.
Bootstrap Support
Bootstrap technology supported to move around the design to how you want.
Design Wizard
to create a good-quality design in mere minutes
Even a beginner can easily handle evolve vast array of appearance customisation options...
| | | | | |
| --- | --- | --- | --- | --- |
| | | | | |
| 1-Click Updates | bbPress compatible | Custom Fonts | Revolution Slider Compatible | Extensive theme options |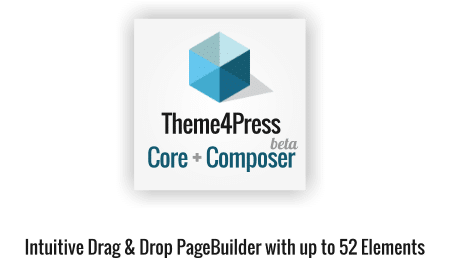 6 Header Styles
To create a unique looking website you should have a complete set of pre-defined headers to start with Upload logos, set colors, fonts, sizes, extras and more...
One Page - Parallax Design
With .evolve premium version you can easily create one page layouts with a parallax effect.
The one page designs let you impress your website visitors with a new way of presentation where all the website becomes one single page.
Premium Features

9 Portfolio Types
Nine portfolio layouts, up to four columns, with or without captions.

6 Blog Layouts
Flexible blogging with 6 blog layouts, Facebook Timeline, sidebars or full width.

1-Click Updates
Install new theme updates with just one click like any other WordPress Theme.

4 Sliders
Slideshow with amazing transitions from Theme4Press Slider.
Custom Layouts
Custom layouts which can easily be adjusted for your own individual needs.
Unlimited Sidebars
Create various sidebars with an unique content.
Import Demo XML option
Start your new project with pre-built demo pages.
Custom Widgets
Add your Twitter account or Facebook fan page..
WooCommerce is the best and most widely used ecommerce WP plugin which is supported by the evolve theme. It is an excellent full of features plugin to let you display, manage and sale your products with ease.
Built-in
Mega Menu

& Full Support For

Uber-Menu

Plugin
Key Premium Features
.evolve is bursting with innovative, powerful, and highly useful features and functionalities for easier website creation.
Integrated Redux Framework & Customizer

Extensive theme options
Light or dark color skins
Custom Post/Page Options
Theme4Press Slider
Parallax & Post Slider

Recent Works widget
Wide and Boxed Layout

BuddyPress compatible

WPML compatible
Page Design & Meta Options

6 Blog layouts
Built-In Contact Form
9 Portfolio layouts
Advertising widget
Contact Details widget
Bootstrap & FontAwesome ready

UberMenu compatible

Multi-Lingual & RTL Ready
Twitter, Flickr and Facebook widgets
Documentation & Video Tutorials
Read the docs, watch videos and learn how to set up the theme just like in the demo sites.