The alora theme has an FAQ component built into it.
In order to create an FAQ page, create a new Page (not a post) and name it appropriately.
Then, on the right hand side under the Template section, use the pulldown menu to select the FAQ template.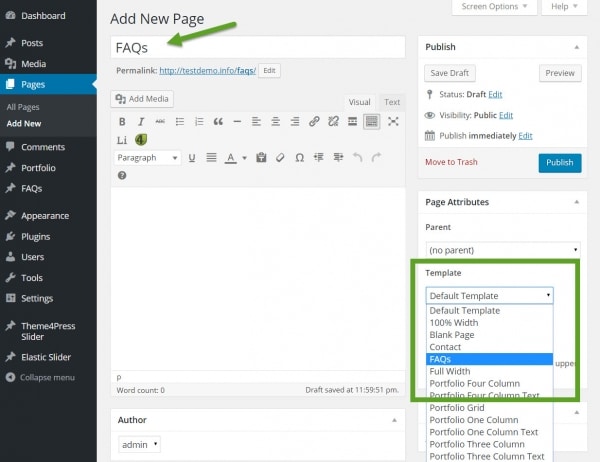 In order to populate the section, go to the FAQ menu on the left side of your admin screen. From there, create a new question and answer.
There you will find a write/edit screen as you would for a regular post. Put you question in the title area and your answer in the body area.
You can also create and assign categories for your questions.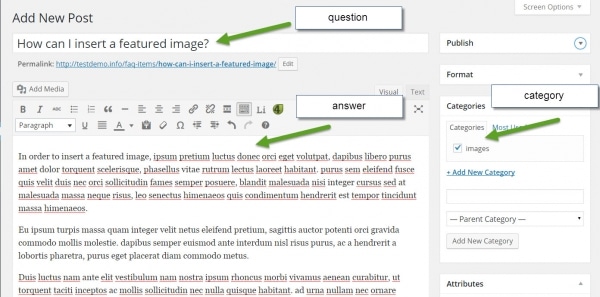 Your questions and answers will then automatically appear on the FAQ Page that you set up before (and applied the FAQ template to).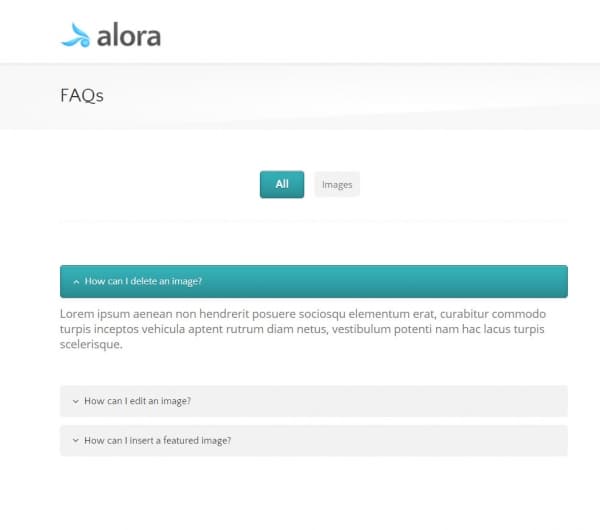 Please note: When changing the page template to FAQ it will automatically add a default sidebar on the page too. If you wish to use an alternative sidebar, choose another sidebar in the Sidebar drop-down field from the page. If you wish to create a custom sidebar, refer to our section entitled "Creating Custom Sidebars" within this document. It is also possible to choose Full Width in the page options to elect to not use a sidebar on the page.
Re-Order Posts: FAQ's, Portfolio Posts, and Blog Posts are all shown ordered by date (which means that the newest posts displays at the top and the oldest displays at the bottom). alora helpfully includes a plugin named Post Type Order (off by default) which adds the ability to Re-Order the posting order manually. Navigate to the Extras tab within the Theme Options and mark off the box next to Enable posts type order plugin. With the plugin enabled, just tap Re-Order in the drop-down list of this area and can then drag and drop posts into place whenever you like.
You can also simply change the published times of the questions. By default, the questions will appear in reverse chronological order.