(NOTE: You can access all the shortcodes via the shortcodes icon on your visual editor. See this document if you need more information.)
Button shortcodes may be used with our theme's predefined skins or simply have custom colors set via theme options. They may be large or small, have custom links, and use any of the HTML target attributes.
Here are a few random examples.
With buttons you have the choice of pre-defined colors, or you can choose your own colors.
You also have a choice of different shapes, different sizes, borders, icons, animations and more.
Here's a look at a few of the settings offered under the buttons section.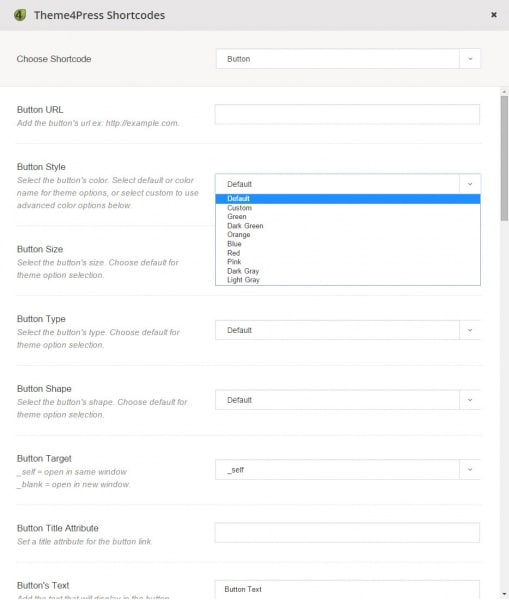 Here's an example shortcode.
[

button

link

=

"http://theme4press.com"

color

=

"green"

size

=

"small"

type

=

""

shape

=

""

target

=

"_self"

title

=

""

gradient_colors

=

"|"

gradient_hover_colors

=

"|"

accent_color

=

""

accent_hover_color

=

""

bevel_color

=

""

border_width

=

"1px"

border_color

=

""

border_hover_color

=

""

shadow

=

""

icon

=

""

icon_divider

=

"yes"

icon_position

=

"left"

modal

=

""

animation_type

=

"0"

animation_direction

=

"down"

animation_speed

=

"0.1"

class

=

""

id

=

""

]

Click

Here

[

/

button

]
And here are the possible properties:
link = URL of place you want to link to
color = green, darkgreen, orange, blue, red, pink, darkgray, lightgray
size = small, medium, large, xlarge
type = flat, 3d
shape = square, pill, round
target = _self, _blank
title = text for button title
gradient_colors = colors with a vertical line (|) between them; use a hex code #000000, or color name black or rgba values like rgba(0,0,0,0.4)
gradient_hover_colors = colors with a vertical line (|) between them; use a hex code #000000, or color name black or rgba values like rgba(0,0,0,0.4)
accent_color = hex code #000000, or color name black or rgba values like rgba(0,0,0,0.4)
accent_hover_color = hex code #000000, or color name black or rgba values like rgba(0,0,0,0.4)
bevel_color = hex code #000000, or color name black or rgba values like rgba(0,0,0,0.4)
border_width = number with px for pixels, e.g. 1px
border_color = hex code #000000, or color name black or rgba values like rgba(0,0,0,0.4)
border_hover_color = hex code #000000, or color name black or rgba values like rgba(0,0,0,0.4)
shadow = yes, no
icon = name of icon
icon_divider = yes, no
icon_position = left, right
icon_divider = yes, no
modal = add the class name of the modal window you want to open on button click
animation_type = 0 (for none), bounce, fade, flash, shake, slide
animation_direction = down, left, right, up
animation_speed = number between 0.1 and 1

For button text, enter text you want between the opening and closing shortcodes