(NOTE: You can access all the shortcodes via the shortcodes icon on your visual editor. See this document if you need more information.)
The Popover shortcode lets you pop up a box with info in it when some text has either been clicked or hovered over.
Here's an example: 
Here's a look at the settings.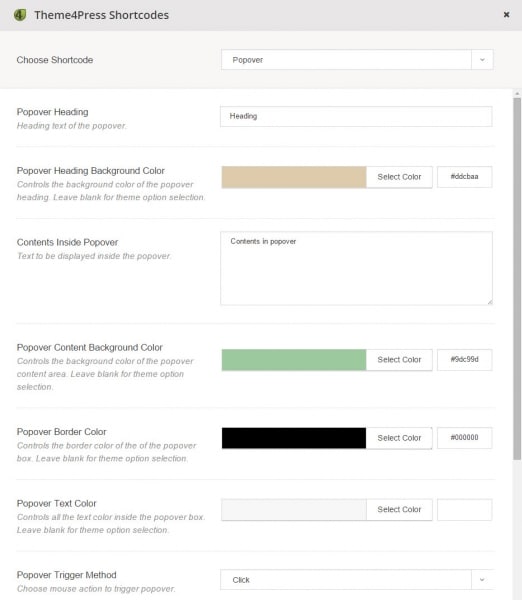 Here's a sample shortcode.


These are the properties:
title = text for title
title_bg_color = color for background of title;hex code #000000, or color name black or rgba values like rgba(0,0,0,0.4)
content = text for content
content_bg_color =color for background of content;hex code #000000, or color name black or rgba values like rgba(0,0,0,0.4)
bordercolor =hex code #000000, or color name black or rgba values like rgba(0,0,0,0.4)
textcolor =hex code #000000, or color name black or rgba values like rgba(0,0,0,0.4)
trigger = click, hover
placement = top, bottom, left, right (default blank is the same as top)
Place text for link text in between the opening and closing shortcodes