(NOTE: You can access all the shortcodes via the shortcodes icon on your visual editor. See this document if you need more information.)
The Social Links shortcode lets you place social icons wherever you like in a post or on a page. Here's an example for Facebook and Twitter icons; however, there are many more social sites to choose from:
This is a look at the settings page.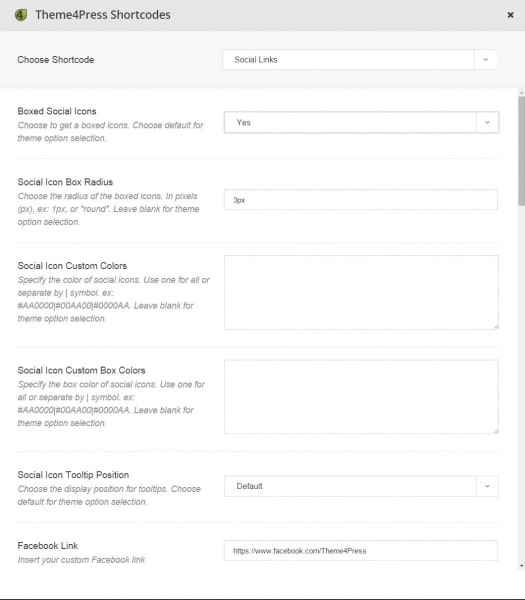 Here's a sample shortcode.


 


These are the properties.









icons_boxed = yes, no


icons_boxed_radius =number for pixels, such as 3px; this rounds the corners of your boxes


icon_colors =hex code #000000, or color name black or rgba values like rgba(0,0,0,0.4)


box_colors =hex code #000000, or color name black or rgba values like rgba(0,0,0,0.4)


tooltip_placement =top, bottom, left, right


show_custom = yes, no;show the custom social icon specified in Theme Options


linktarget = one of these values: _blank for new window, _self for same window, _parent for parent frame, _top for full body


all the social links = add your social media profiles to be included; ensure you use the proceeding http://