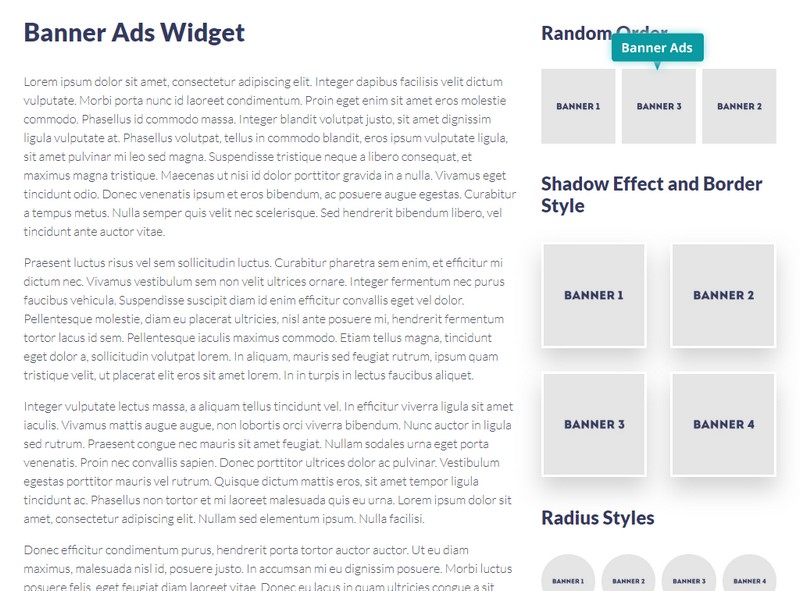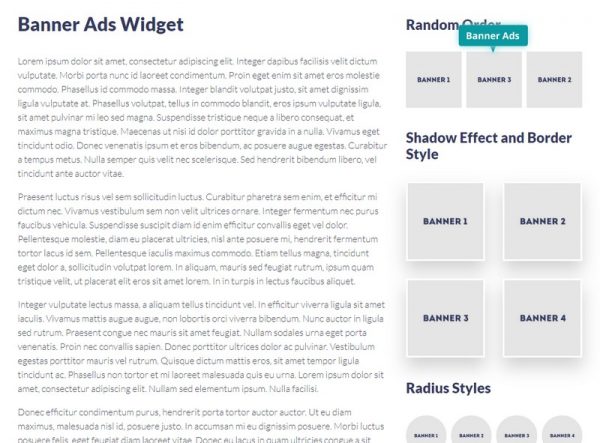 Introduction
The banner ads widget is just perfect for showing image banners of any size. The widget supports up to 10 items per widget, random display of the banners, many options which will make the banners unique with borders, shadows and much more.
Widget Options
The widget comes with the following options which you can use to set unique styles:
Number of columns

Premium

controls the number of columns of the banner ads
Maximum number of items to show

Premium

sets how many items will be displayed in the widget
Display Order

Premium

sets if the items will be displayed ascending, descending or randomly
Banner Spacing (px)

Premium

controls the spacing between the banner images
Tooltip Position

Premium

this option controls the position of the tooltip (popover)
Banner Hover Effect

Premium

enables/disables the hover effect on the mouse over event
Banner Shadow

Premium

sets if the images are shown with a shadow effect
Banner Border Width (px)

Premium

controls the pixel width of the image border
Border Color

Premium

sets the image border color, if the width is defined
Border Radius (%)

Premium

controls the image square/radius layout
Item Options
The widget supports up to 10 items which you can add to a single widget. To add a new item, please click on the Add item button to create a new banner. A few item options will appear, like upload image for the banner, setting image size, link URL and title, link target and a relationship of the link. Once you set all the fields, just click the Save button to finish the process.