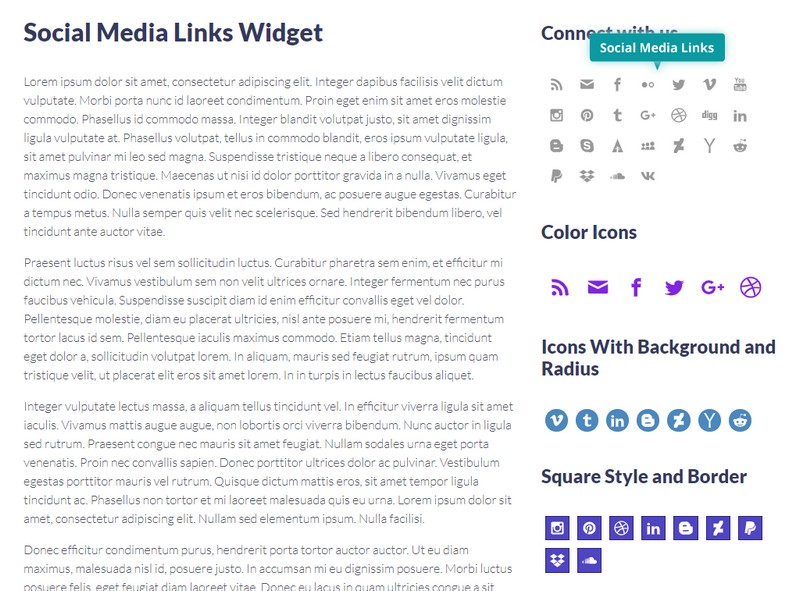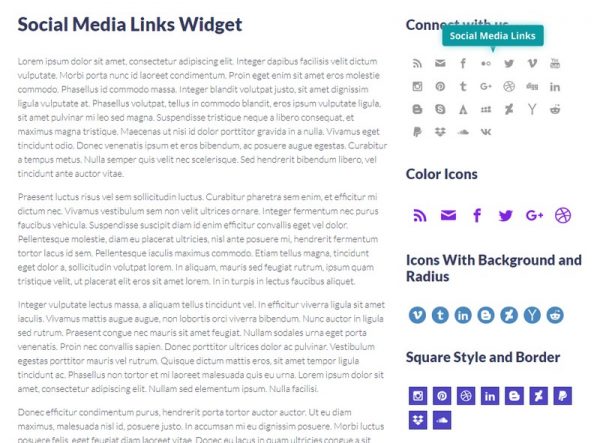 Introduction
This widget has a big pack of predefined social media icons - up to 25 social media icons + 5 custom fields where you can pick additional icons as you need. It has great settings of the icon colors, sizes, backgrounds, borders and much more.
Widget Options
The widget comes with the following options which you can use to set unique styles:
Link Target

sets the icon media link target to open in same window or a new one
Link Relationship

controls the "rel" attribute of the links
Tooltip Position

Premium

this option controls the position of the tooltip (popover)
Icons Boxed

Premium

enables/disables the boxed layout of icons
Boxed Icons Background Color

Premium

controls the icons background color for boxed layout, if enabled
Icons Border

enables/disables the border around the icons
Border Color

sets the icon border color, if the border is enabled
Icons Border Radius (px)

controls the icon square/radius layout
Item Options
The widget supports up to 25 predefined icons + 5 custom (Font Awesome) icons which you can add to a single widget. In the predefined fields, please always insert a full URL to your social profile/website page, e.g. https://facebook.com/username. To add a new custom icon with a link, please click on the Add item button to create a new icon. A few icon options will appear, like field to insert the Font Awesome icon, link URL and icon title used for the tooltip. Once you set all the fields, just click the Save button to finish the process.