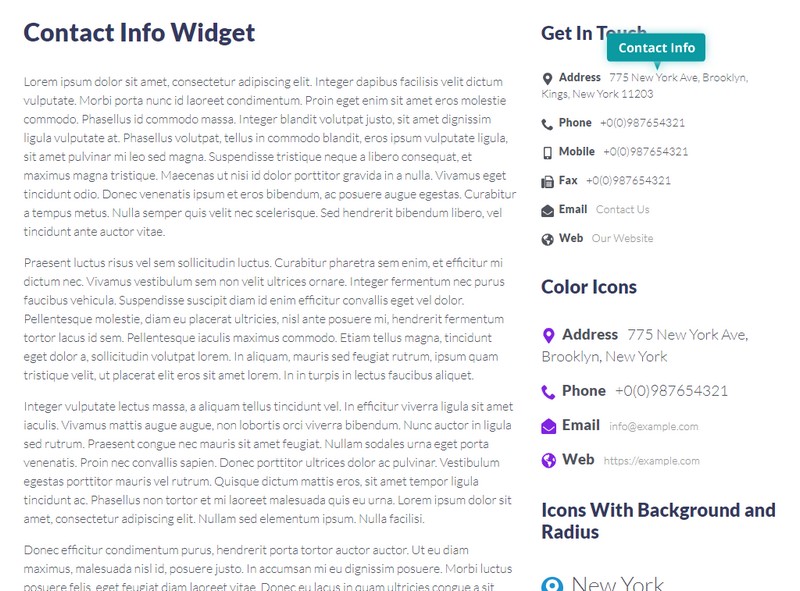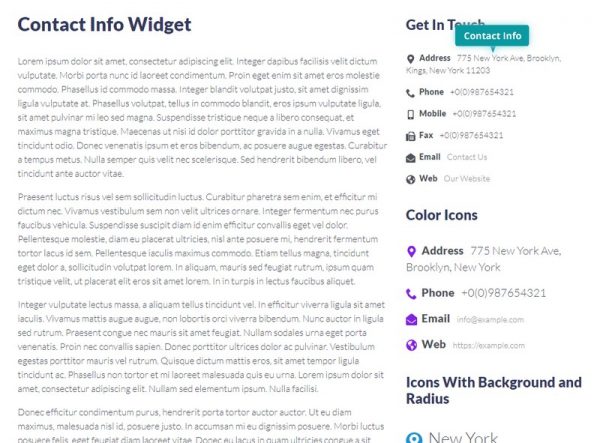 Introduction
The contact info widget adds an extra style to your contact information area. You can select if display titles with icons, their size and colors. You can add up to 6 fields which can show your phone number, address, website and email, fax or a mobile phone.
Widget Options
The widget comes with the following options which you can use to set unique styles:
Icons Color

controls the icons color, if the icons are enabled
Items Display

defines if the items are displayed in a list or inline
Display Item Titles

Premium

controls if display the titles next to the address, phone etc.
Font Size

Premium

sets the font size of the widget
Display Item Icons

Premium

sets if display the icons next to the address, phone etc.
Icons Color

controls the icons color, if the icons are enabled
Icons Background Color

Premium

this option controls the background color of the icons, if the icons are enabled
Icons Border Radius (%)

Premium

controls the icons square/radius layout
Address

in this field you can insert the address
Phone

in this field you can insert the phone number
Mobile

Premium

in this field you can insert the mobile number
Fax

in this field you can insert the fax number
Email

in this field you can insert the email address
Email Link Text

in this field you can insert the email address text
Website URL (with HTTP/S)

Premium

in this field you can insert the website link
Website URL Text

Premium

in this field you can insert the website link text